Coronavirus (COVID-19) has left many people uncertain and concerned about what precautions to take, and the implications in the workplace.
We are closely monitoring Coronavirus and following the current guidance from the leading government and health authorities to ensure we are taking the right actions to protect our members, employees, and community.
We want to be sure that you have every resource at your disposal as you navigate this uncertain time and we will continue to monitor this evolving situation and will keep you informed of future updates.
For the most current and updated information, please see the City of Long Beach's Economic Development business support page on COVID-19: http://longbeach.gov/economicdevelopment/covid-19-business-support/
---
The Chamber team is here to assist you during this crisis. If you have any questions, please click here to contact the appropriate staff member.
---
---
---
---
---
---
---
---
---
---
---
---
---
---
---
---
---
---
---
---
---
City of Long Beach: COVID-19
Media Update for BUSINESSES    
May 26, 2020 Daily Updates
Update: City of Long Beach Safer at Home Order Amended
On Friday, May 22, the City updated the Safer at Home Order (Order).

Per the latest Order, the following "lower-risk" businesses are allowed with limited operations:
Antique stores

Beauty supply

Bookstores

Clothing and shoe stores

Florists

Hobby Stores

Home and furnishing stores

Jewelry stores

Music stores

Retail ONLY for hair salons, barbers, art galleries, museums, spas, wellness centers

Sporting goods stores

Tobacco retailers

Toy stores
All retail that provide goods and services not considered "essential" must operate curbside pickup or delivery only
Car dealerships

Car washes, including full service

Residential cleaning services

Pet services (e.g., pet grooming, dog walking, training)
Can operate storefronts

No longer required to do curbside pickup/drop off
Equipment rentals such as kayaks, standup paddleboards, kitesurfing, electric boats, bikes
Must be staffed and able to sanitize equipment between uses

Shared equipment limited to individuals or members of the same household only
Small charters, including gondola rides
Only 2 employees allowed - employee to operate the water vessel and one other employee

Limited to charters to individuals or members of the same household only

Gatherings and charters that allow more than one household at a time are prohibited
Staff of organizations or associations, including faith-based organizations, may prepare and facilitate live-stream services with their members, including worship services, if staff gathering is limited to 10 people or fewer

In-person counseling services, including faith-based counseling, where the service cannot reasonably be practiced remotely and the counselling is limited to members of a single household

In-person behavioral health or substance use disorder support in therapeutic small group meetings, such as Alcoholics Anonymous or Narcotics Anonymous

Outdoor museums
Outdoor spaces only for outdoor recreational activities (e.g. walking).

Indoor portions of the museum must be closed to the public

Stationary activities and exhibits that involve touching or contact are prohibited

No gatherings
o   Private and public golf courses
o   Tennis centers and tennis courts
o   All Lower-Risk Businesses are required to implement and post a Physical Distance Protocol prior to operating.
---
Click here to see previous City of Long Beach COVID-19 Media Updates for BUSINESSES
City of Long Beach: COVID-19
Media Update
Tuesday, May 26, 2020
6:45 p.m.
By the Numbers (Long Beach only:   
1,605 total positive results 

Daily reporting of case counts continues to fluctuate due to heavy demand for testing (due to the wider scope of testing criteria) and backlog at various laboratories, causing delays in reporting.

75 fatalities 
65 people hospitalized 
Approximately 1,150 recovered (Please note that, for low-risk patients recovering at home, recovery data is self-reported)
Data as of 12:01 a.m. May 26, 2020
Details Regarding Fatalities:
57 are associated with long-term care facilities
One individual was in their 40s, four individuals were in their 50s, 17 were in their 60s, 19 were in their 70s, 20 were in their 80s, and 14 were over 90 years old
42 individuals were men and 33 were women 
All individuals had underlying health conditions
At this time, to avoid risk to patient privacy, no further details will be provided
Long-Term Care Facility Case Information: 
472 positive cases have been confirmed at a total of 25 long-term care facilities in the city since the start of the pandemic (25 is a cumulative number; the Health Department is currently monitoring long-term care facilities with active cases). These cases include both facility residents and staff members (who may not be residents). Long Beach had a total of 96 long-term care facilities (LTCF) at a point in time according to two state databases. Three of these facilities are pending state licensing. For the tracking LTCF in Long Beach, 93 facilities were used as our baseline. Currently, 22 of these facilities are closed and 71 of these facilities, both assisted living and skilled nursing, are currently open and operating. Moving forward, we will use 71 facilities as our baseline for LTCF reporting with respect to COVID-19. In the event a new facility opens, Health officials will provide support and serve as a resource to facility administrators and staff.
In line with the California Department of Public Health's standard for listing skilled nursing facilities with positive cases, the City is listing facilities currently experiencing outbreaks (more than two cases of COVID-19) including counts for health care workers and residents. (A delay in publishing the LTCF attachment is associated with the holiday weekend closures; the attachment will be forthcoming.)
Tracking the Curve: 
Information regarding positive cases, hospitalizations and demographic breakdown is available online at longbeach.gov/COVID19 and in the City's data dashboard, providing the most up-to-date information available. (see attachments)
Orders of the Health Officer:
Past News Releases:
To view COVID-19-related news releases, visit the City Press Release Archive. Releases include information about economic relief, help for people experiencing homelessness and updates regarding City operations.
Joint Information Center:
The Joint Information Center (JIC) remains open during normal business hours, seven days a week: 562.570.NEWS (6397) or jic@longbeach.gov.
Important Public Safety Announcements:
The City urges people to remain calm. Follow @LongBeachCity on Facebook, Twitter and Instagram, and visit longbeach.gov/COVID19 for guidance. Sign up for Alert Long Beach to receive emergency notifications.
Long Beach Police and Fire Departments remain fully committed to the ongoing City efforts to ensure the safety and health of its community members.
Who To Call & Additional Resources:
Up-To-Date Local Information on COVID-19: longbeach.gov/COVID19 and @LongBeachCity on Facebook, Instagram and Twitter. Highlights can be found using the hashtag #COVID19LongBeach. 
Business Information Line (normal business hours): 562.570.4BIZ (4249)
Public Information Line (normal business hours): 562.570.INFO (4636)
Health Providers:

Normal hours: 562.570.4302
After hours emergency only: 562.500.5537
---
Great Plates Delivered - Food Provider Interest Form
Governor Newsom announced Friday, April 24 the launch of a first-in-the-nation "Great Plates Delivered: Home Meals for Seniors" partnership with counties, cities, and Tribes. This program has two purposes: Help older adults (65 years or older) and other adults (60-64 years) at high risk from COVID-19 to stay home and stay healthy by delivering three nutritious meals a day, and Provide essential economic stimulus to local businesses and workers struggling to stay afloat during the COVID crisis.
---
As you know, the mandate for Long Beach regarding bars, gyms, arcades, theaters, and restaurants is now in effect as of March 17, 2020 at 12am and continuing until March 31, 2020 or until further notice, 
Bars, gyms, arcades and theaters are now closed. 
Bars include but are not limited to nightclubs, breweries, wineries, taverns, pubs, cocktail lounges and alcoholic beverage manufacturing facilities 

Gyms include yoga, pilates, boxing, spin, and other small fitness centers

Bowling alleys are also mandated to close 
Restaurants no longer have onsite dining and are limited to take-out or delivery only. 
Restaurants include but are not limited to establishments engaged in the preparation and sale of food for immediate consumption with seating for customers to consume on-site 

This includes coffee shops 

Restaurants offering take-out are encouraged to separate areas for pick-up by 6 feet to accommodate social distancing
Additional guidance or changes will be issued as needed in the future as the City evaluates this situation with our state and local partners.  
Dignity Health is focused on helping our providers and communities prepare for, and respond to, the spread of COVID-19 in every way we can. To support our community response to this virus, we are expanding access to virtual urgent care options. Dignity Health is offering free virtual urgent care visits with a coupon code for patients experiencing mild to moderate symptoms of COVID-19.
---
City of Long Beach launched a Rapid Assessment Clinic to provide medical assistance to people who might otherwise feel compelled to visit an emergency room for their medical conditions. Starting Tuesday April 7 drive-through appointment-only COVID-19 testing will be available for those who need it, in an area adjacent to the Rapid Assessment Clinic. Interested individuals should visit the City's COVID-19 testing page and answer several pre-screening questions. Testing will continue to be prioritized for individuals who are symptomatic, those who have underlying health conditions, or are 65 years or older.
---
As Kaiser Permanente addresses the short and long-term needs generated by the COVID-19 virus, we are continually evaluating the most strategic deployment of our staff and facilities.  In some areas, we are temporarily closing or minimizing services at our medical office buildings as we convert to telehealth appointments. At this time, we are temporarily limiting service at the Long Beach Medical Office to pharmacy, lab and diagnostic imaging/radiology only.
---
---
Metropolitan Water District (MWD) - In our efforts to continue reinforcing our water safety and reliability message during the COVID-19 crisis. MWD issued an open Letter from the Metropolitan Water District of Southern California and Your Water Providers. Read Open Letter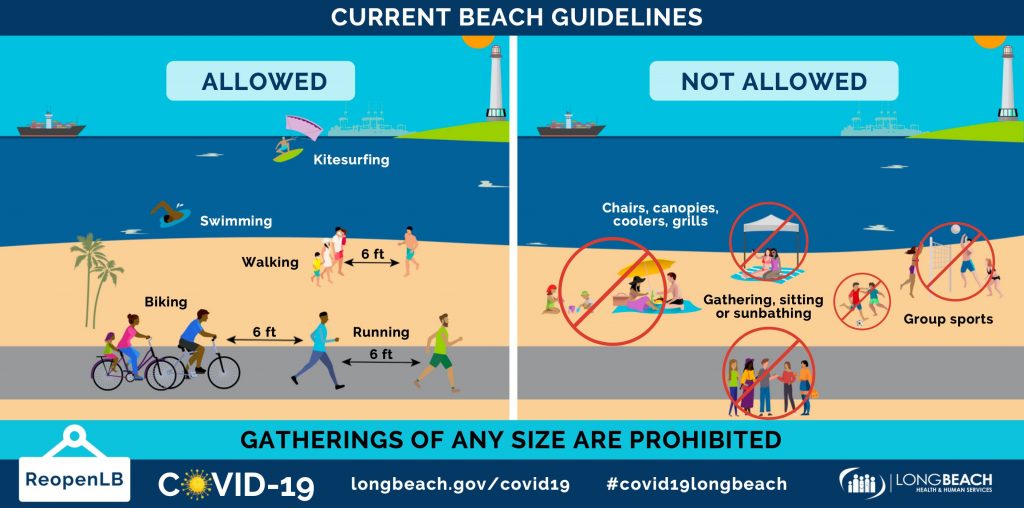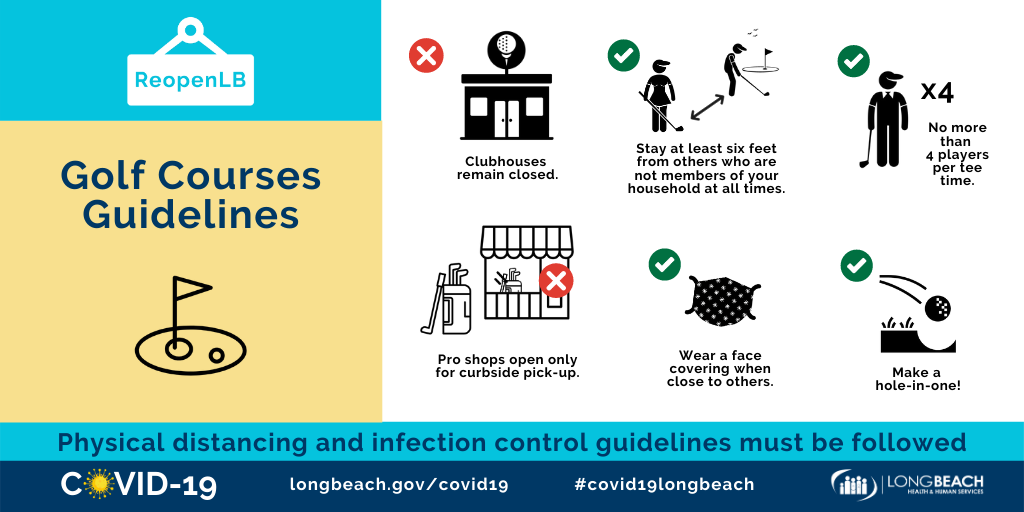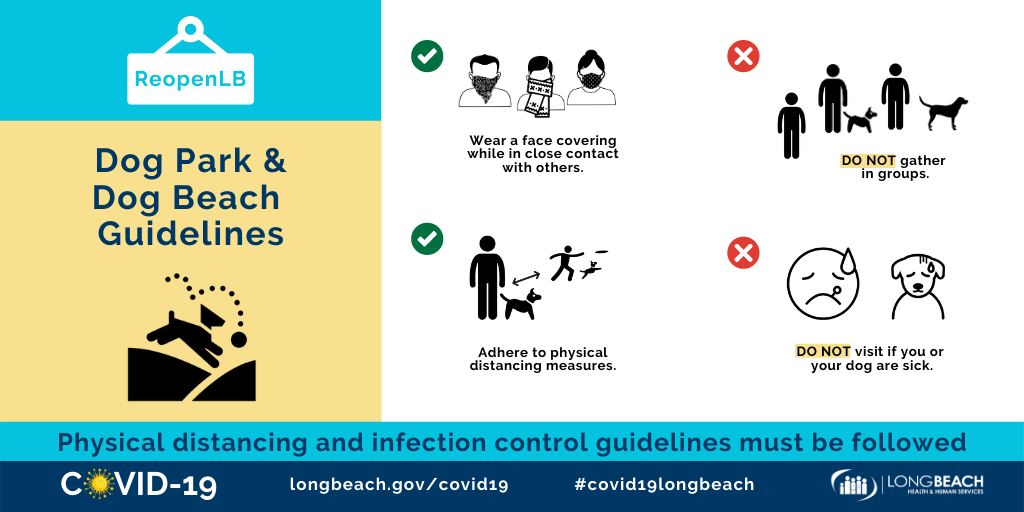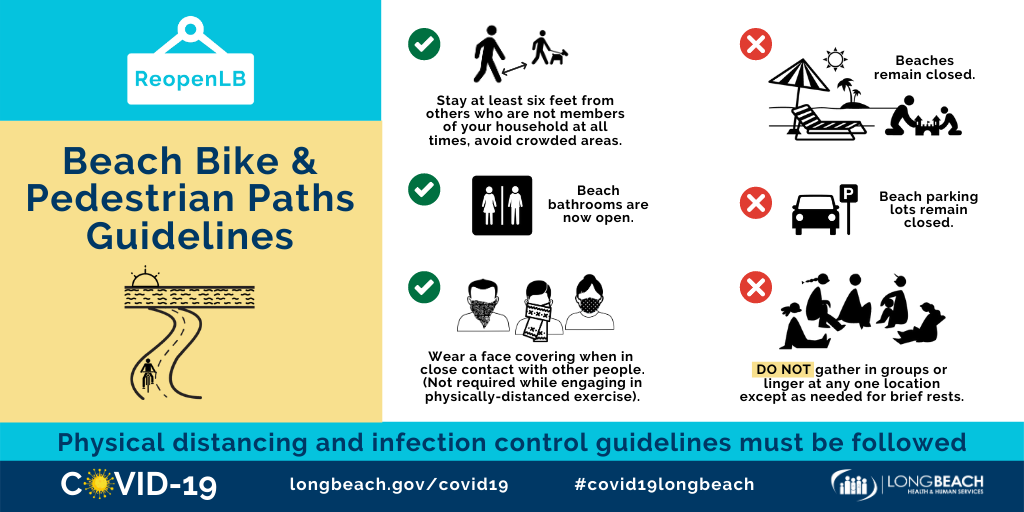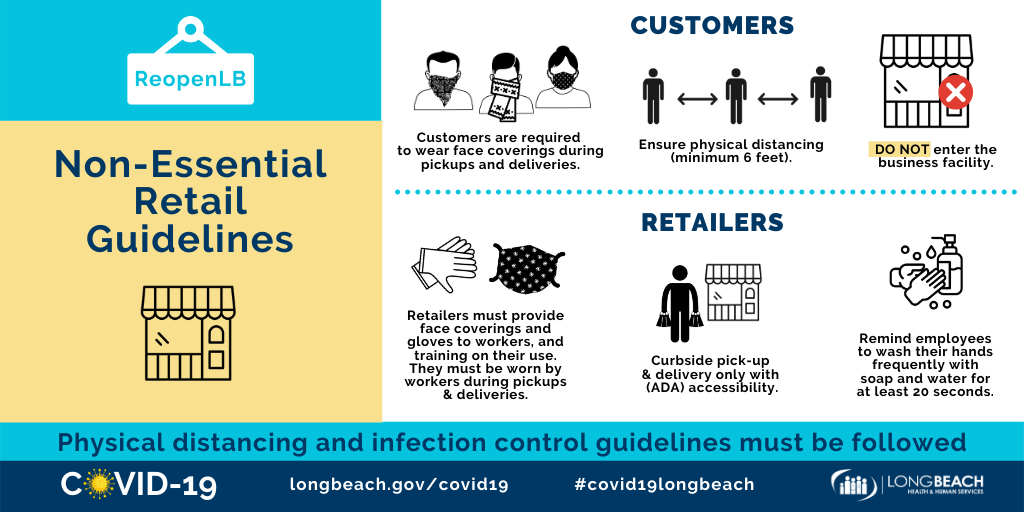 ---
Please refer to our media partners for the latest information and news on the coronavirus.
Links are included below
---